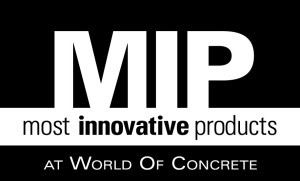 Washington, DC – March 16, 2015 – Hanley Wood, the premier information, media, event, and strategic marketing services company serving the residential, commercial design and construction industries, has announced the winners of the 2015 Most Innovative Products (MIP) at World of Concrete Awards.
Presented annually in conjunction with the World of Concrete, the MIP Award program showcases many products exhibited at the show. The MIP award program allows World of Concrete attendees and audiences of CONCRETE CONSTRUCTION, MASONRY CONSTRUCTION, AND THE CONCRETE PRODUCER an opportunity to vote for the products they judge as innovative. Winners are also selected by a panel of industry experts, many of whom serve on the World of Concrete Educational Advisory Board, as well as by the editors of CONCRETE CONSTRUCTION, MASONRY CONSTRUCTION, and THE CONCRETE PRODUCER. Winning products are chosen based on the innovation they bring to the industry.
"There's an amazing amount of innovation going on in the industry today, as this collection of new products demonstrates," noted Bill Palmer, Editorial Director of Hanley Wood's Commercial Construction Group.
This year's products were grouped into nine categories. Information about each entry is available at www.votemip.com.
2015 MIP Award winners include:
Business Tools and Software
Experts Choice: Quadrel iQ and mGuage
Editors Choice: ProContractor by Viewpoint
Industry Choice: AboutTime WorkMax